CONSTRUCTION OF NEAR ZERO ENERGY BUILDINGS
What is a Near Zero Energy Building?

Bioclimatic design, energy planning, rational energy use, all identical concepts, have a single goal. With the correct thermal behavior of the building, we ensure the appropriate indoor climate, winter-summer, with all the benefits that this entails: economic, environmental, CO2 reduction and quality of life.
The thermal balance of a building (thermal losses in winter and heat gains in the summer), determines the use of mechanical equipment for cooling and heating. The reduction of energy use is achieved by design manipulations concerning the layout of the building, the orientation, the shading, the space management, the shape of the building, the insulation of the outer shell, the heat capacity of the building elements and the application of passive solar systems for heating and cooling.

Building Construction Standardization (B, B +, A +)

New buildings are classified in energy classes according to the kilowatt hours per square meter consumed per year (KWh / m2 / year) for heating, cooling and hot water, per climatic zone with a minimum acceptable category "B". For example, the cost of a house of 120 m² for heating, cooling and hot water production in the B (Athens) climatic zone, classified as "B +", amounts to € 540 per year.
Enefsys has standardized three types of low energy consumption homes (B, B +, and A +) depending on the budget available to the customer. Their energy features and their operating costs follow. If you own a plot on which you wish to build your home, contact us to have a discussion. We undertake architectural planning, licensing, and construction of your home.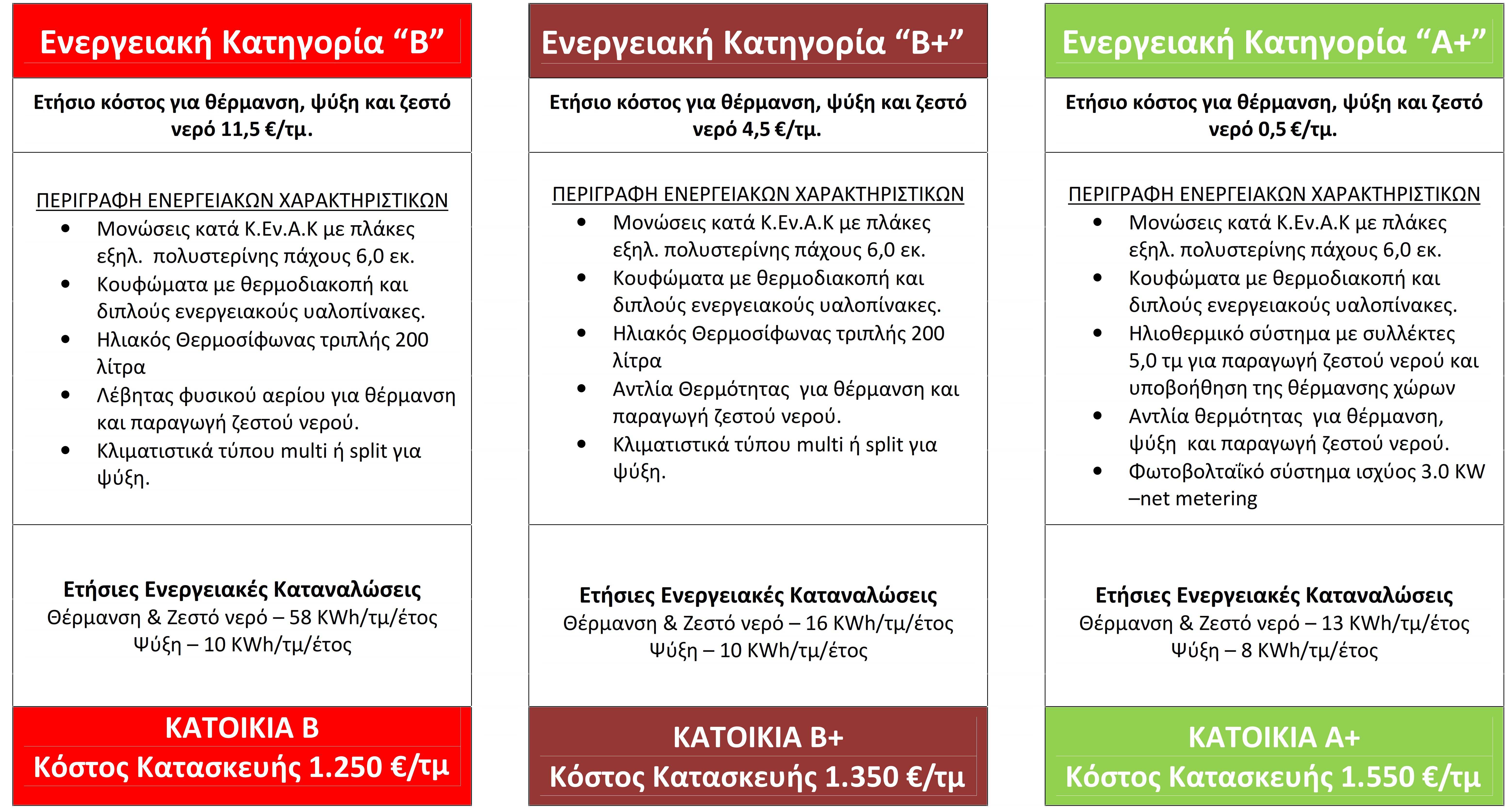 Clarifications:
The above prices do not include the cost of issuing a building permit and the surrounding space configuration.
The above prices refer to conventional building constructions, as described in the respective specifications, which can be modified according to your wishes and the available funds.
The above specifications are the minimum system specifications per category. Upon consultation, they can be tailored to your particular requirements.
The energy category (B, B +, A +) of the respective dwelling is certified by the end of the construction by an independent Energy Inspector, according to the provisions of the Energy Performance of Buildings Regulation (ΚΕ.Ν.Α.Κ.).
If you are interested in this please fill out the form or contacts us.